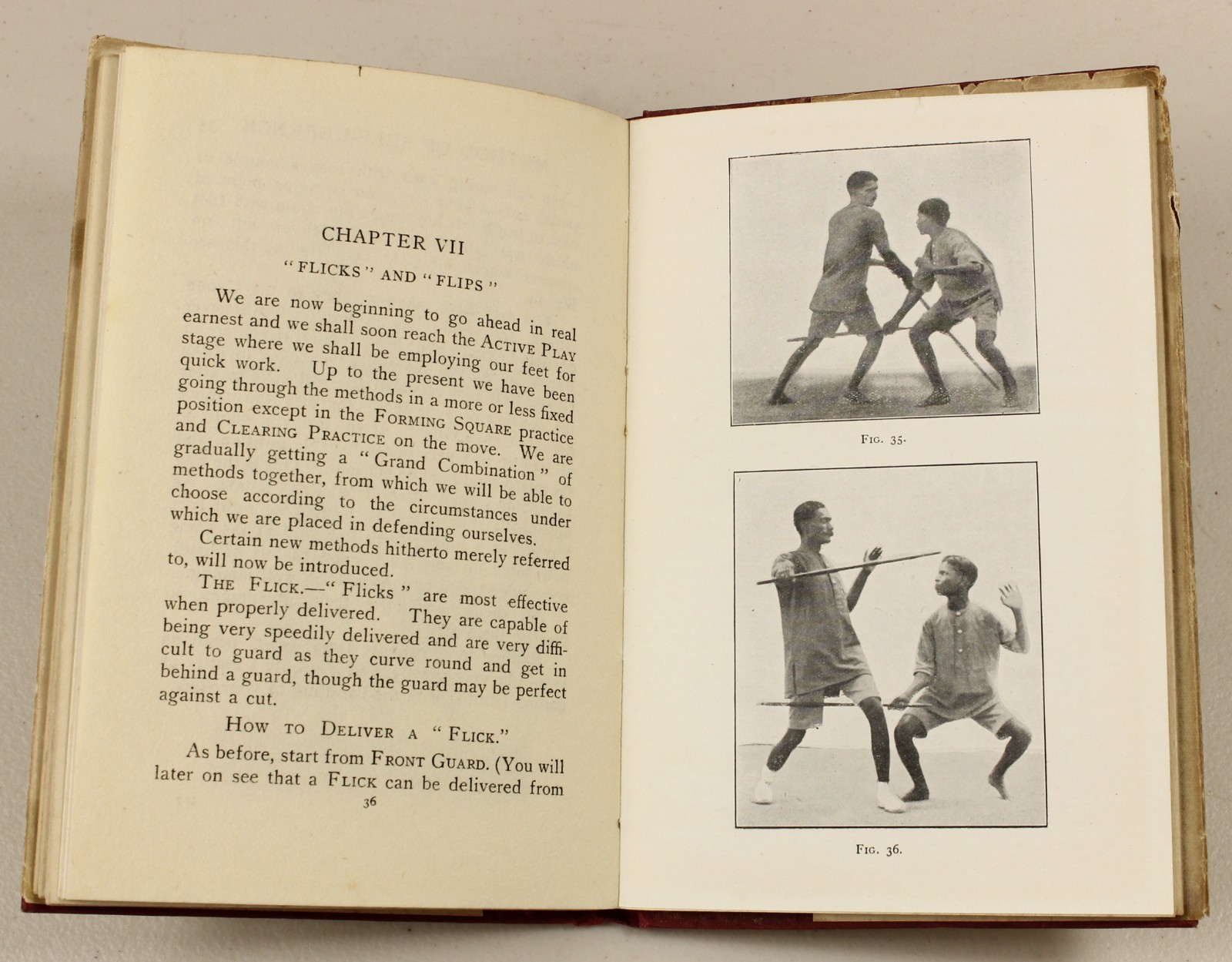 A rare first-edition copy of H.G. Lang's classic self-defence manual is currently available for sale via eBay.  The asking price is £300 (US$326).
Quoting the seller's description:
– "THE DAINTIEST LADY CARRYING A WALKING CANE IS A MATCH FOR THE BURLIEST HOOLIGAN." –

[LANG (Herbert Gordon, 1887-1864)]

The "Walking Stick" Method of Self-Defence. By an Officer of the Indian Police. 

(London): Athletic Publications Ltd., n.d. [1926]. First edition. xvii, 66 p. Publisher's burgundy cloth with black lettering to upper cover and spine. Printed dustjacket with black lettering and illustration of Indian police officer using his stick. 8vo (19cm x 12.5cm).

Very Good internal condition, in a Good to Fair only jacket and binding. Tape previously used to strengthen reverse of dust jacket, resulting in some horizontal brown tracks. Jacket also age-toned and somewhat dirty / marked, with chip to top and bottom edges with some loss to spine ends and corners. Rear board damp marked (front less so). Pages a bit age-toned but plates clean and bright. Very occasional light scattered foxing. Binding solid. An acceptable copy in a worn but intact dust jacket. See gallery images.

Thanks to research carried out by The Bartitsu Society in recent years (see their web site), we now know much more about the origins of this quirky martial arts book, which today is quite rare and has a cult following of sorts in the Bartitsu community. 

Bartitsu is an eclectic martial art and self-defence method originally developed in England during the years 1898–1902, combining elements of boxing, jujitsu, cane fighting, and French kickboxing.

We already knew that author H. G. Lang was a senior officer in the Indian Police, but exactly what inspired his method of walking-stick defence remained sketchy. 

Lang grew up in the West Indies, where it's possible he studied the local stick-fighting method called 'bois', also known as 'kalinda' in Trinidad. Later, in 1920-21, he learned the 'Vigny' stick-fighting style from Percy Rolt at the latter's Holland Road gym in East Sussex. Indeed, Lang credits Pierre Vigny in his book as an inspiration for his method, which seemingly melds elements of bois, Vigny and kalinda, and once learnt can make "the daintiest lady carrying a walking cane… a match for the burliest hooligan". 

"Today, H.G. Lang's book forms part of the foundation of the Bartitsu and Vigny stick fighting revivals."(The Bartitsu Society, pub. online Dec 2017.)

As an interesting aside, "During the early years of the Second World War, his book was translated into Hebrew and became the basis for the stick fighting training of the Haganah paramilitary organisation in Palestine". (The Bartitsu Society).

The book contains 60 photographic illustrations showing his self-defence method's various moves and postures (59 in the book itself and one on the front cover of the jacket).